Are you really "behind" your peers? Or just on a different track?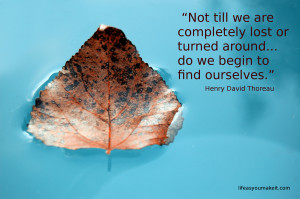 Some of us take longer than others to get on the right track in life. We don't know what we want to do when we grow up, we are hampered by rough beginnings, we make dumb choices…and we end up far behind out peers when it comes to our careers, education, families and other areas of our lives. We see people our own ages who are doing so much better and we see younger people who are surpassing us as well. Not going to lie…it's depressing!
I have had that problem. And I think, even though I now know my life purpose, I'm a good 15 or 20 years behind. My much younger sister makes more money than I do with hardly any work experience! I feel like I've wasted a lot of time and I'm going to have to work hard to get back on track. But can I catch up when I'm this far "behind?"
And does it really matter? Am I truly behind? Or just different? Many of my former classmates have good paying careers, nice homes and established marriages. I'm not too far from where I started when I was leaving high school. And at the same time, since I'm not a fresh college graduate, I am watching much younger people get promoted ahead of me because I was not on the right track to begin with.
Sometimes I worry about this. But, then I start thinking and remembering that I have had some really unusual life experiences and have learned some lessons that most people will never have the opportunity to experience or learn. For one, I was once on an album cover. Who out of my peers can say that?! But on the other hand, I am twice-divorced–both times from abusive men with the second being an actual sociopath. Oh yeah, I learned something there! Let me say, I did NOT like that lesson. But, I have learned the power of introspection as I've uncovered why I attracted and was attracted to narcissistic men. And I am no longer naive to false charm; I know to look at actions instead of just hearing words. Plus, I learned how to help my children avoid ending up in the same position. I married abusers because I was raised in an abusive home, but it has made me alert to understanding how children and personalities develop…as well as what we all need to feel secure and not fall prey to pretty charmers. There are a whole slew of life lessons and there is a whole book's worth of wisdom in my head. As a bonus, I'm aware that I need to learn more and I am open to doing so.
Does that really leave me "behind" my peers? Maybe in some areas, but perhaps not in the life areas that truly matter.
I think my life's trials have given me a lot of understanding and critical thinking skills I might never have learned without having endured bad things. They helped me find some of my life goals, and they have prepared me to fulfill my plans. Most importantly, they have given me fire and inspiration to succeed!
And it's okay to play "catch up." There are plenty of admirable people who didn't find their way until later in life. Did you know that the renowned wedding dress designer Vera Wang didn't begin her design career until she was 40? Now she's a HUGE name in her industry! Or how about comic book creator Stan Lee? He was almost 39 when he found success. Now his creations are legendary. Famous actor Samuel Jackson didn't hit it big until he was 43 and comedian Rodney Dangerfield was 46. Charles Darwin didn't write "Origin of the Species" until he was 50–the same age Julia Child was when she wrote her first cookbook. Now both of them are known as visionaries in their fields. And one of my heroes–Laura Ingalls Wilder–didn't publish her first "Little House" book until she was 65.
I finally have a life goal and a plan that has been growing for the past few years. I'm closing in on 40 and I'm not doing as well as my peers, but that's okay. I am in good company….
For more stories and information about people who found their success later in life….