Wasting time keeps you from reaching your dreams!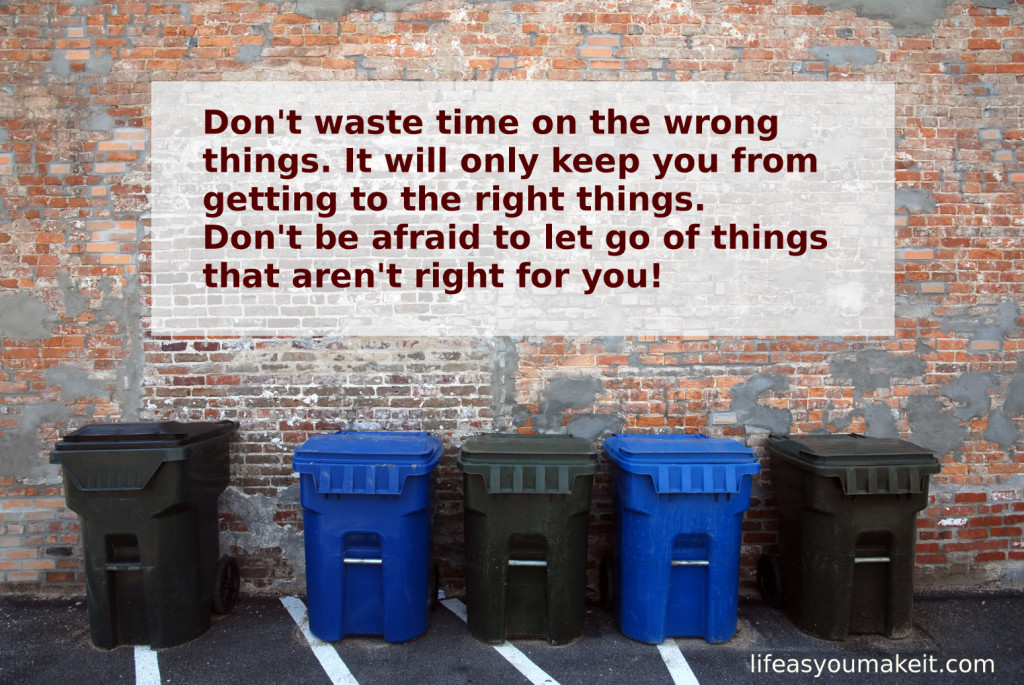 I've been thinking today about wasting time. Not wasting time as in procrastinating, or being lazy, but wasting time as in staying in situations that are pointless. How many of us have stayed in a bad relationship, or an unsatisfying job, or continued doing things we didn't really want to do just because we were used to doing them and didn't know how to change…or worse, were afraid to face changes? I know I have!
I spent nearly all of my twenties dating someone who was perfectly nice–someone that I got along with really well…but I had no romantic feelings for him. I knew I wanted to get married and have kids one day, and I knew it would not be with him, but I just kept staying even though I knew I wanted more. We were extremely compatible and had all of the same hobbies, so I feared moving on and losing what I did have. I thought it was easier to keep dating that person and continue having a built-in partner for social occasions than it would be to become single and look for someone I did have romantic feelings for. In many ways, it was. In fact, I still haven't found someone that was such a great match for sharing all my interests. But on the other hand, I haven't found someone that was a good partner either. Sometimes I wonder, did spending so much time in a dead-end platonic relationship seriously hurt my chances to meet the right person for me? While I was wasting time, were all the smarter women marrying the men I would have liked better? I have a sneaking suspicion that I wasted many good years that would have been better spent single and meeting a better match for me. Not that life is over and I'm ready for the retirement home or anything, but did I miss out? I definitely didn't make much progress towards my real goal!
I feel the same way about many areas of my life. Did I waste time switching my college major a few times? Did I waste time at jobs I didn't like? Did I waste time staying at home instead of working on a career when I was married? While I did have many good experiences, I knew I was unfulfilled, and I just stayed that way instead of taking steps to get what I really wanted. I think the journey through life is very important, but…you have to be ON that journey instead of sitting in the rest area while your goals are still waiting down the road!
I want to live a life of movement towards my dreams instead of being stagnant. Every moment we are feeling unhappy and not doing anything about it is a moment wasted…a moment that isn't being spent doing the things we want to do with the people we want to be with. It is time to make changes and reach for what we want instead of just waiting!