Learning to look out for myself
When I first started writing this blog, I decided I was going to review the self-help books that were helping me. I realized that I was too passive, too fearful, lacked boundaries and just wasn't getting as much out of life as I should. So, I started reading and learning about a whole bunch of topics that were helping me become the person I wanted to be–happy, fulfilled, successful, productive and a good mom. I picked the title "Life As You Make It," because I wanted to focus on how we can all MAKE our lives the way WE want them to be instead of just letting life happen to us, because, as I go through life, I'm realizing how true that is, and how many opportunities I've missed by being passive.
I have learned so much, not just from reading the books, but by processing my thoughts, considering my life patterns and writing about what I learn. It's therapeutic, it opens my mind to change, and it makes me feel like I'm really finding my path in life.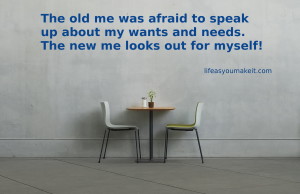 I came at this blog as a survivor of a bad childhood and an incredibly abusive relationship. My mousy ways made me a magnet for predatory people. But, they also kept me from meeting good healthy people, finding and advancing in the right career, and looking out for my own best interests in every day life. I don't mean looking out for myself in a selfish way, but in an assertive way, where I speak up for my rights and voice my needs and wants. The very qualities that were attracting abusers were also keeping me from being fulfilled.
I've just been writing about things that inspire me, good books I read, chapters that are exciting, research that makes me think and tips that help me. There isn't one single topic because it's about getting the best from life in all areas that matter to me. And I've finally realized what I am doing:
I am learning to look out for myself!
 Through life, I have not done a good job of looking out for myself or standing up for myself. I didn't know the life skills that come naturally to some people. I've just drifted around settling for relationships or jobs that didn't make me feel good and didn't make my life better. I was not looking out for myself at all! I would be extra considerate of others, but never myself. That is now changing!
I don't want to be vulnerable to predators anymore.
I don't want to be the woman who is looked over for promotions anymore.
I don't want to be the person who is afraid to speak up anymore.
I don't want to feel like I'm missing out on the good stuff anymore.
And I am ready to take charge and re-invent my life the way I want it to be!
I am excited about learning from others, learning from my own mistakes, and sharing my journey with others. It's a great feeling to know that I am in charge of my life and to know that, even when bad things happen to me, I am gaining the knowledge to bounce back and take care of myself better than ever before. Especially for other abuse survivors, I want you to know, it does get better. I didn't enjoy the trials I experienced, but I realize now that they happened to give me the epiphany I needed to snap out of my passive lifestyle, and change my life for the better. I am a doormat no more, and I want others to know that you can recover and thrive. It all starts with the decision to learn.