Taking care of yourself as a single mom when you have no support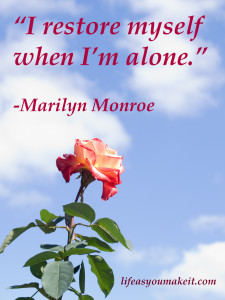 Like many women, I am a single mom. Like not as many women, I have absolutely no family to back me up during emergencies, or even on a normal day when I could use a break. I can go months at a time without ever having time for myself. I go to work, then I come home to be a mom. I haven't even been able to get to the doctor or dentist recently because there is too much going on at all times. Not that I don't want to be a mom, but I think I'd prefer to be a mom who had a couple hours alone once a month or so! Being a mom is a 24/7 job that takes a lot of physical and emotional strength, and it's only human–and healthy–to need a break to replenish your inner strength. But…I don't get one. I don't have a functional family that I feel safe around, and I don't have spare money for a baby-sitter. So…I constantly seek ways to pamper myself a little without actually spending time alone.
I know other moms who get girls' nights out, go to salons for a "me" day, get together with friends, go to movies, and have time to do things for themselves. I'm a little jealous in a sad way, because I know a happy and well-rested mom with a support system can be a better mom, (or at least it's easier to be a good mom when you have back-up!) Sometimes I worry that my kids aren't getting as good of a childhood because they don't have the support of a bigger family, and because it's all on ME to make sure they turn out okay. Yikes! So, I make an effort to find replenishment in little ways that help me stay peaceful and strong.
Recently I saw another parent looking for ways to get a break without actually getting away, (and that one wasn't even single!) so I know I'm not the only one. What are some ways to get a few minutes for you when you can't leave your home or your children?
Here are some of mine:
1. Buy a new bottle of fingernail polish, then paint my nails. I get to feel pretty at work the next day!
2. Stay up late to watch a movie or show I like after the kids go to bed. (Then daydream about the leading man 😉 )
3. Take an extra few minutes to use my favorite lotion and massage my feet.
4. Eat some fattening food and enjoy it without feeling guilty.
5. Listen to my favorite music, (through my ear phones,) after the kids sleep.
6. Repeat the song I like best over and over until I have heard it as much as I want to!
7. Look through humorous websites until I'm laughing.
8. Look at happy photos from my photo albums.
9. Waste time doing nothing…without feeling guilty.
10. Chat with a friend by phone or online.
And of course…read and write blogs!