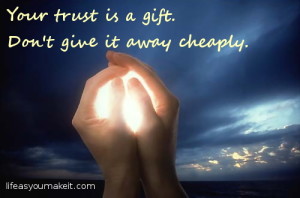 I was thinking earlier about dating and how some people have very strict guidelines for what they want in a relationship. Sometimes we call them deal breakers….
In my own experience, I have an ideal in mind. I know that there are certain qualities that are essential to me. BUT, in the past, I have almost always let them slide. I have dated too many people who weren't a good match for me, and I knew it from the start. Maybe there was something they did that I found ethically unacceptable, or a belief they held that I thought was really awful, or any other personality trait. Knowing that something made me uncomfortable, I'd still date someone that I knew wasn't a good match. Why? I always thought I was being very open-minded and I was great at compromising. How about…I wasn't being true to the qualities that mattered to me? I'm not talking about a cute butt or nice wavy hair, but about core religious or political values, life goals…things that matter.
I've always been super shy, so I was just so glad that someone wanted to date me, that I never stopped to wait for someone who was more my type! On the other hand, I know people who will refuse to start a relationship when they know there is a deal breaker. I just turned fuzzy and waived what should have been deal breakers for me, but people who have stronger self-esteem, more patience, and more respect for themselves seem to be better at making choices that will enhance their lives in the long run.
There's something to be said for giving everyone a chance, but there's also something to be said for holding strong to the qualities that are very important to us. That's a lesson I've had to learn–very painfully–in life.
I know my tendency to "over compromise" and to be very long-suffering has a lot to do with my having dated more than one abusive man. If one of them did something that would scare away a girl with more sense, I'd just ignore it and keep trying to make the relationship good. Lost cause!
I am learning to be the woman who says "that is not good for me, and it's not what I'm looking for in a relationship" when it's obvious that the relationship is not going to go well.