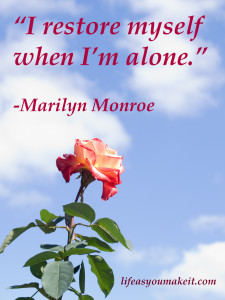 I've been thinking a lot lately about introversion, and how normal careers and life can be difficult for people who get overstimulated and need a lot of "me time" to recharge and replenish their emotional energy reserves. I used to say at my last few jobs that I felt emotionally drained and exhausted at the end of the day. The jobs were not physically challenging, but they demanded a lot of interaction and included frequent conflict. I would come home at the end of the day feeling like I'd been giving everything I had all day and I needed time to be alone. I am an introvert.
People who are introverted aren't necessarily shy or anti-social. But we are people who "recharge" and gain our personal energy by being alone instead of being part of a group. I often enjoy socializing, but after a while, I need some quiet time to think and relax. There's nothing wrong with that, but introversion is often considered a bit of a handicap when it comes to making friends,  climbing a career ladder, and networking.
Since I have become self-employed, I am spending my days home with my young children instead of in an office with adults, but I still recognize that need to have some quiet time alone at the end of the day. My doctor even encouraged me to take a part of a day every week to do something for myself because parents need to recuperate too. So today, I am doing that and reading some about introversion, because I want to learn to use it to my advantage.
I've come across some good links that are worth sharing:
10 Ways Introverts Interact Differently With The World
I can relate to so many points in this article! For example, the writer points out that introverts can feel overwhelmed in a crowd, but might feel energized by a one-on-one conversation. Or, we are very good at giving public speeches, but we stumble when it's time to converse with strangers. We are more likely to screen and/or avoid taking phone calls–partly because it pulls us away from other things we are doing. I think it is noteworthy that each of these comparisons has a strong point for introverts. We are different from extroverts, but our differences can work for good. The introvert can have long, stimulating conversations, can really focus on putting together a public speech and can stay on task with a current project. I think if we can focus on the positive aspects of introversion, we can thrive even in a primarily extroverted environment. It's important to pay attention to your feelings and needs so you can nurture them.
And here's another good article:
Introverts' secrets of success
This writer discusses the reality that Western culture rewards extroversion, and that the large majority of managers and bosses are extroverts. So where does that leave us introverts?! Fortunately, the article gives some ideas! I really like this quote from a reporter/news correspondent named Tazeen Ahmad: ""The secret to any success I've had has been embracing my introversion…." That is an excellent point! One quality of introverts is that we are more likely to observe and think about things, so we can use that to our advantage by fostering good intrapersonal skills. As I mentioned before, if you get to know yourself, what energizes and relaxes you and how you react, you can learn to use your personal qualities to your advantage. There are more practical career tips for introverts in this article.
And here is another great article:
The Best Job for Introverts Is No Job (In Particular)
When you first see this title, you might think you are going to read a list of jobs that are best for introverts, but when you read on, it's really about making the most of being an introvert no matter what job you are in. I think I like that idea better–thrive with your differences and use them instead of trying to hide them. The article also recommends a book that sounds pretty helpful. I just ordered it, so I'll have to report back!